Enjoy a warm welcome at Dawn House in rural County Waterford with beautiful green field's and forest's. Dawn House has been awarded four stars by Failte Ireland's new classification system.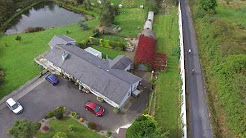 "Click here, This is a little video of that is outside and around our place, enjoy ". 
---
  
Click on link to find out more about the walk and cycle Greenway beside us. A safe and healthy way to get out and about for all the family, you can go for a little cycle or as long as you like. The reward for your effort is stunning scenery and that feel-good factor you get from being out in the fresh air, but take it easy and enjoy the experience. We can hire a bicycle and helmet to you.
---
Dawn House B&B

,
Kildermody,

Kilmeaden,
Waterford,
Eircode: X91 D439
GPS: 52.233700 -7.304400
Phone: +353-(0)51-384 465
Email: info@dawnbandb.com
Host Mrs Ann Fitzgerald
Ann, Luke and Tomas Fitzgerald welcome you to our bed and breakfast in beautiful rural County Waterford. The Fitzgerald Family has been welcoming guest into their home for the past 27 years. Dawn House is built on a 3 acre site it has its own small lake and is bordered by the Dawn river. There is plenty to see when you arrive at Dawn House. Pygmy Goats, Mountain Sheep, Hens, Ducks, Geese, Peafowl and an Irish Wolfhound called Meave. You can walk around or sit out on the patio and enjoy the view.
Here is a picture of our two new arrivals.
Just born today 03/04/2017.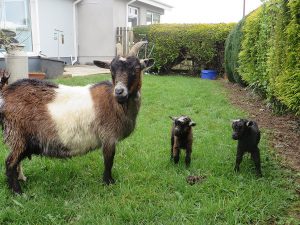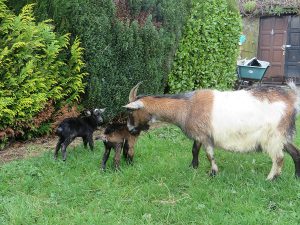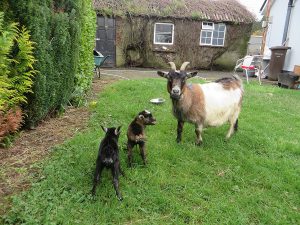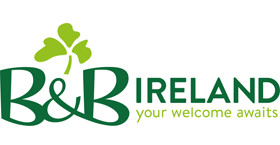 We are a Member of B&B Ireland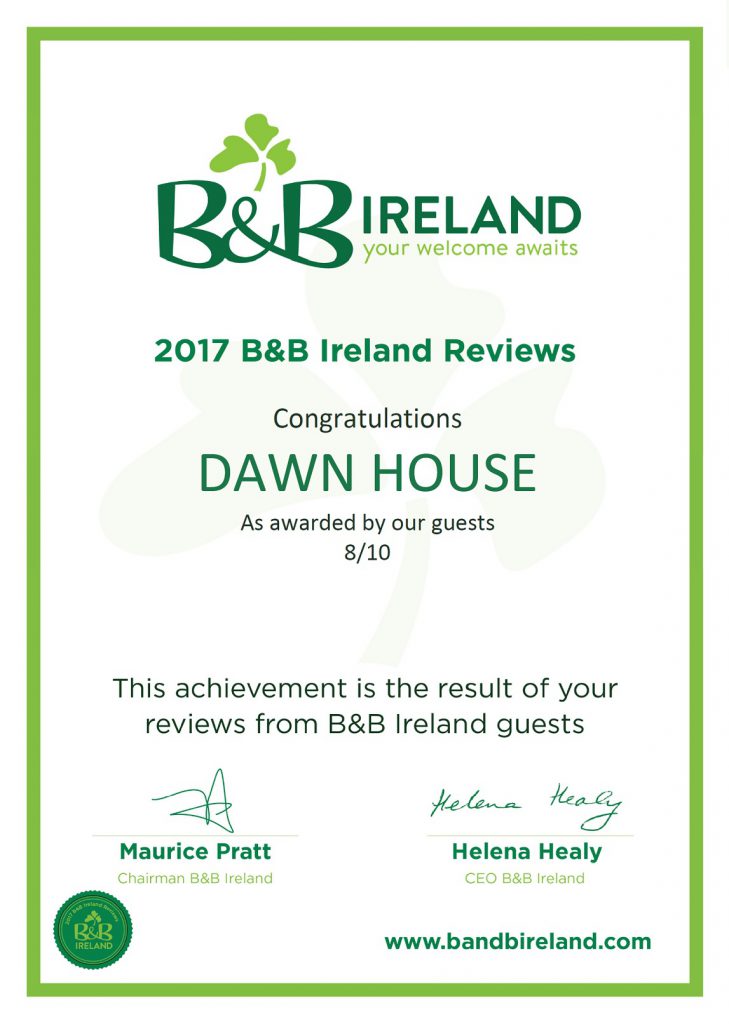 Book Now
Dawn House Bed & Breakfast
Please use The booking Widget on the top right of this page or you can contact us directly.
---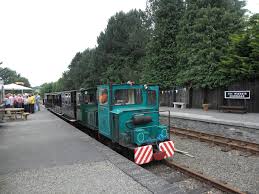 See the beauty of the Suir Valley from a period railway carriage and take in the wonderful panoramic views of the River Suir. This family friendly railway runs for a good part along the picturesque banks of the River Suir offering views of the world-famous Mount Congreve Gardens, rich in history and is only accessible by train.

Latest B&B Ireland Customer Reviews
Christine Logan
Review Score: 10/10
What a lovely location, the scenery and hosts were wonderful and the geese were very entertaining during breakfast. Such a peaceful location to wind down to. I would highly reccomend this location to anyone travelling through Ireland.
Gary and Jeanne
Review Score: 10/10
Very comfortable accommodations. Gracious hosts. Offered great suggestions for restaurants. Loved seeing all the lovely Waterford crystal pieces displayed. Great breakfasts. Enjoyed walking the cycleway. Highly recommend.
Mark Mansell
Review Score: 10/10
We had a very enjoyable stay. Slept well! Ann and Tomas were extremely nice and fun to talk with. Great recommendations for things to see and do. We enjoyed our experience and would definitely recommend and stay again the next time we are in Ireland!
John, Ellen and Caolán
Review Score: 10/10
We had a lovely stay at Dawn House B&B, Ann, husband Luke and son Tomas Fitzgerald made us feel very welcome. The rooms were clean and very comfortable, it was home from home, a very nice house. Dawn house has a little lake on the grounds of the B&B with a wide variety of birds and animals to see. There is a cycleway next to the B&B that stretches from Waterford to Dungarvan, we got some bikes from Luke and off we went. It is mostly level cycling to Waterford with great scenery, it brought me back to my youth, plus it was safe, as only walkers and bikes are allowed on this path. I will be back to do the other half, down to Dungarvan, please God. Last but by no means least was the Breakfast was delicious and plenty to choose from. It featured eggs and tomatoes Ann gets fresh from her own back garden, highly recommended.
David Balcom
Review Score: 7/10
Very clean, but small rooms. Ann and her husband were very friendly. The house was a bit hard to find and signs were small. Nearby Marlow Falls are spectacular!
Reviews Powered by B&B Ireland